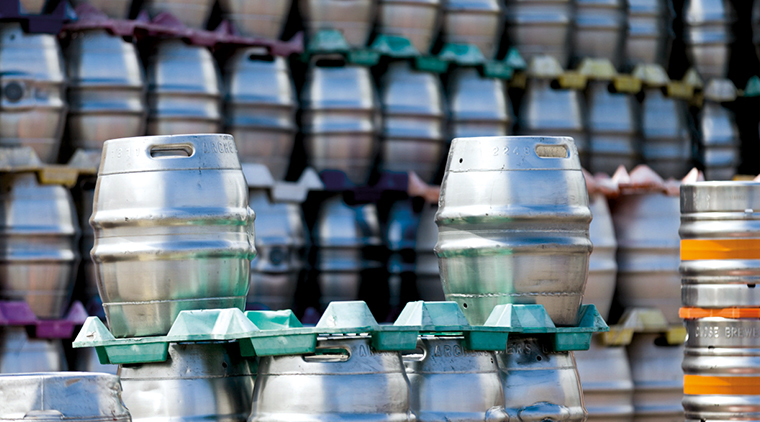 Our customer
Lancaster Brewery  has been brewing since 2005, based in the northwest of England. Using traditional brewing methods, they now boast an award-winning core range of beers and ciders. Larger premises have been acquired as they have grown, seeing production increase from 2,000 to 8,000 litres of craft beer per day. Serving their range throughout Lancashire and beyond, the team also own and run several pubs and hotels.
The challenge
The company have a long-standing relationship with Close Brothers Brewery Rentals, using our cask rental since the inception of the brewery.
 
Historically the business has hired containers for wholesale, alongside their own cask supply. This included a combination of steel and plastic, the latter being more difficult to wash and fill. Looking for a cost effective and flexible option to replace the plastic casks and increase their stock, without a substantial outlay, they turned to our specialist team for advice.
The solution
Having used our 'fill and forget 'service, the team have since moved to EkegPlus, a rental pooling service that allows more flexibility and, with RFID technology, allows brewers to trace the progress of their product throughout the supply chain – from fill to closing the hire cycle.
This has given access to over 400,000 steel casks, without the need to purchase outright. With the use of Plus Portal there is also greater transparency over cost-to-serve and daily hire charges for users of the EkegPlus system.
Will Pammenter, Head Brewer at Lancaster Brewery, said:
"As a larger brewer, the supply of casks is important for our operations and success. We have our own washing facility which means we can collect and reuse empty ecasks we find, which allows us to close rental cycles and manage both our costs and our stock levels more efficiently.
 
"Cost saving for the brewing industry is important right now. The price of raw materials has increased, barley has doubled in cost, and being able to have a more flexible system to only pay for what you use is an advantage. We can navigate seasonal fluctuations while knowing that our population of casks is basically unlimited."