A container rental solution that puts brewers in control
EkegPlus is a container rental pooling service that gives you more flexibility.
Our outsourced keg and cask solution allows brewers to only pay for the time they use containers – with prices starting at just 99 pence for 30 days.
With access to our fleet of over 400,000 ekegs and ecasks, you have the freedom to adjust usage and costs as required. Simply keep the stockpile of containers you need onsite, or collect and refill from a range of locations.
Each container is embedded with RFID technology, making it uniquely identifiable. After you've scanned an ekeg or ecask into a hire cycle, you can track where your product is and how much it's going to cost on our PlusPortal management platform.
EkegPlus works in four simple steps

EkegPlus calculator
Terms and conditions apply
Key benefits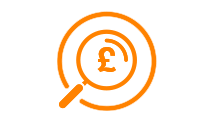 Transparent costs
Use the PlusPortal to see your cost-to-serve and daily hire charges, with an 80 day cost cap in place to protect you.
Improves cash flow
With no capital tied-up in assets, you can adjust your monthly costs to reflect seasonal demand.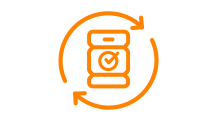 Ready when you are
Maintain an agreed stockpile of ekegs and ecasks on-site as needed or collect them from a range of locations.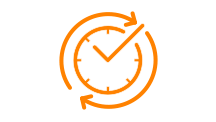 Time saving
Track and manage hundreds of containers in seconds with RFID bulk scanning technology, providing quick asset visibility.
RFID tracking and the PlusPortal provide traceability, are straight forward to navigate and give clear visibility on the charges and billing. 

It is a big advantage to be able to view data, allowing us to reconcile an invoice at a granular level if necessary.
Thornbridge Brewery Procurement Manager, Danny Janes
RFID technology gives you a clear view
Our award-winning RFID technology gives you more visibility when managing containers and costs.

Every time the containers you're using are scanned, the data is logged on the PlusPortal management system. This allows you to trace the progress of your product throughout the supply chain – from fill to closing the hire cycle.

The PlusPortal provides an overview of the keg or cask fleet you're using and charges, as well as data about container usage that could help you to make logistics more efficient and improve profitability. 
Your supply chain, your choice
Our container hire service, EkegPlus, gives you the flexibility to deliver products directly to retail venues or to any of our approved wholesalers. 

When the ekegs and ecasks you're using are empty, collect them yourself to reduce costs, or wait for us to recover them, closing the hire cycle for you. 
With access to our large fleet of kegs and casks, you could extend your product's reach across mainland UK. There's no obligation to recover containers from wholesale and our pricing cap stops brewers from being overcharged.
Our services
We work with business of all sizes to provide tailored solutions for kegs, casks and container maintenance services. We provide flexible finance package for a wide range of assets from a new cask washer to the total installation of a new brewery. Find out more at Close Brothers Brewery Rentals.
Ready to start? You can call us on 01425 485 421 or fill in the form below:
© 2021 EkegPlus. All rights reserved.